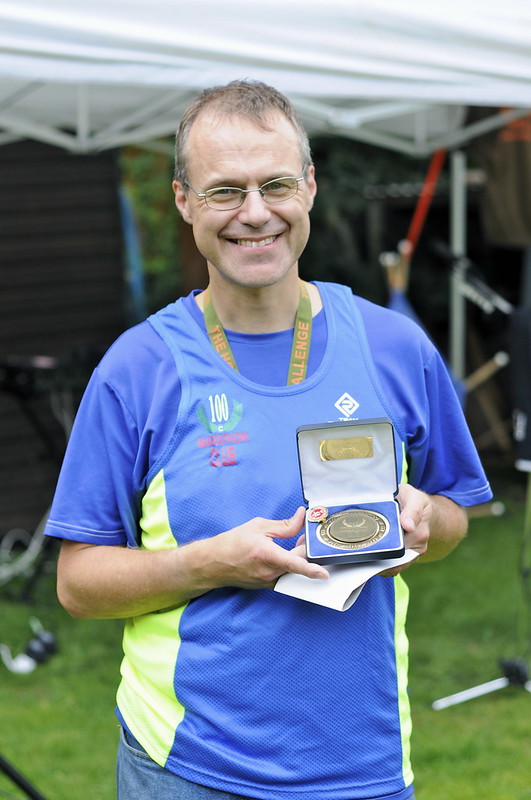 Jon Aston
Role on Committee
Treasurer
How many marathons have you run?
About 275, I have not counted them up for a while and forgot to log a few.
Why did you start running and tell us about your first marathon
I started running because I was very fat 44" waist, 16+ stone. After swimming and cycling which didn't help as I can't swim fast enough to burn calories and I kept falling from the bike and hurting myself I found running and that I loved it.
My first marathon was Flora London Marathon in 2006. I was undertrained and didn't really know what I was doing turning up in long sleeved top and track suit trousers, but I got around in 4:35 and loved it.
What has been your favourite marathon so far? Why?
That is a hard one there are so many. My favourite UK marathon is Snowdonia for its scenery, organisation and friendliness. My favourite overseas marathon is Athens, the original one. It is probably the best organised event I have ever participated in and as a marathon history geek it was amazing to follow (roughly) in the footsteps of Pheidippides.
But I love ultra-marathons the most and any of the three long canal races rank amongst my all-time favourite races with the Leeds and Liverpool Canal Race the most special as I completed my second time with my wife Sarah and my third to complete the so-called Canal Slam in 2017. I also really enjoy helping on these events.
Tell us about your 100th Marathon, Where, when, how you choose it etc?
My 100th marathon was the Holly Marathon in 2011 which is put on my good friend Denzil Martin of How Hard Can It Be Events. It was in my home town, with lots of my running friends present and was followed by a party in Denzil's garden with barbecue and live music. I was privileged to be inducted by two people I had grown to admire in their own journey to 100, Ruth Benzimra and David Foxy Bayley.
What's your approach to training / running outside of races?
Depends what I am training for. If a long ultra, lots and lots of miles. If a marathon PB lots of miles plus speed work, sprint reps, hill work etc. One of the best things I ever trained to do was to walk fast, it makes in difference in marathons which require a bit of walking and definitely ultra-running.
If money were no object what race would you run and why
Spartathalon although the amount of money needed to train me to be fit and fast enough would require a massive euro-lottery win and even than I doubt I could make the grade.
Running things go wrong for all of us – whats the biggest mistake /upset along your running path
Once we drove from Shropshire to the Oxon 40 and upon arriving, I found I had forgot my shoes.
In the Canal Slam 2017 my back went into spasm from carrying a stupidly heavy backpack on GUCR. Then armed with a lighter pack on KACR I got mugged in Slough and on the final race the LLCR the towpath before me was blocked by a burning car and I had to wait for the fire brigade.
What piece of advice would you give someone starting out on this journey
Enjoy your journey and if you don't or you stop enjoying it either take a break or stop altogether. Always listen to you body, do not run with injuries just to collect numbers. If marathon running starts to take over your life cut back a bit and find a healthy balance.
What keeps you busy outside of running?
Although retired I am very busy. I am currently attempting to recover from recurrent bouts of severe depression and anxiety and am also undergoing assessment for ASD. I am a mental health champion for 'run together' and a founding member and run leader for Telford runandtalk group, a group specifically set up to encourage people with mental health concerns get into running. I am also a qualified road race course measurer.
I have recently become a granddad to the most wonderful little boy Jaxson. I love spending as much time with him as I can and from May will be caring for him three days a week as my daughter goes back to work. I have already got us a running buggy and am looking forward to many adventures with him.