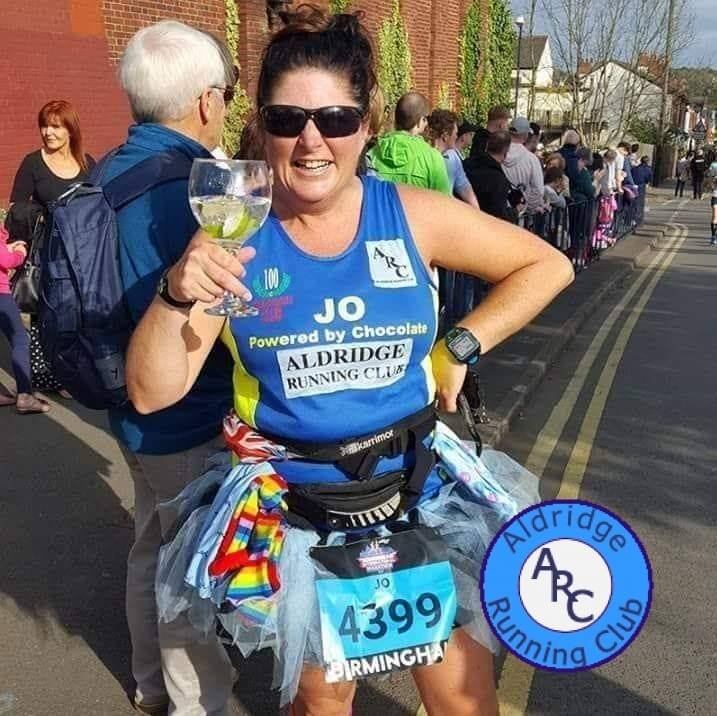 Jo Yarnall
Role on Committee
Secretary
How many marathons have you run?
lost track after 130, just run to enjoy them
Why did you start running and tell us about your first marathon
I started running after a divorce and my ex husband told me I'd never run a marathon, so the challenge was set and not only did I run a marathon but beat his time too haha
My first marathon was London as I ran it for a Heart Down's syndrome charity as my eldest daughter has Down's syndrome and had open heart surgery at 8 weeks, it was a very emotional marathon especially when the chairman of the charity met me at half way and I bawled my eyes out when she told me I was running to make a difference to all the children the charity helps including my own daughter.
What has been your favourite marathon so far? Why?
I can't pick out one particular marathon as I've got so many I've enjoyed that all have different memories and reasons of whey there were particularly good and I enjoyed them
One of my favourite marathons has to be Snowdonia ( I only thought I'd do it once but loved it so much I went back for more ) as the scenery and the atmosphere is amazing and the run down to the finish line I find myself crying everytime I do it
I also enjoy Lanzarote marathon due to the fact of meeting so many people from the 100MC there on the day and over the weekend there
I also enjoyed the Paris marathon as I found the crowds there really supportive and a lovely route ( probably helped by going with a lovely bunch of people and doing a parkrun the day before )
Although not a marathon but obviously covered marathon distance I enjoyed the TP100 as for a slower runner I felt that it was a huge achievement and cannot thank the support of Jon Aston ( and his wife ) enough as he supported me through it and for my friend Toks who encouraged me to run it
Tell us about your 100th Marathon, Where, when, how you choose it etc?
I totally loved my 100th marathon which was Snickerthon Marathon - the Inaugural as I chose it myself. When I first realised I was aiming for a 100 Marathons I asked Denzil Martin a Race Director from How Hard Can It Be events if he would be willing to put a marathon on for me for my 100th if I found a route and a venue. I wanted it to be close to me ( was 10mins away from where I live ) so that my family and my friends and my running club could come and support me. I found a venue took Denzil with me, we asked permission from the the council and thankfully everyone agreed and so Snickerthon was created ( and has been going ever since ) Denzil designed the medals with my chocolate theme ( love chocolate ) Heather made a lovely chocolate themed cake and all my family and friends came and my local running club came along to support me and ran with me, the last lap I had a crowd of people running with me including one of my best friends who had recently undergone chemo so it meant so much. My running club formed a guard of honour for me to run under to the finish line of which you can guess I blubbed all the way to the finish line. I had wonderful speeches from Denzil and Emmett, celebrated with 80 friends and runners at the curry house after and it was just a perfect day
It was one of the best days of my life and it lived up to all my expectations and more and will go down in history as I was humbled by all those people from friends and runners who wanted to spend the day with me and celebrate
Whats your approach to training / running outside of races?
Training???? What's training?
If money were no object what race would you run and why
Do you know I'm not really sure as I run marathons to enjoy them and also enjoy the atmosphere Maybe someone can make some suggestions?
Running things go wrong for all of us – whats the biggest mistake /upset along your running path
Not taking a sports bra and trying to fit into someone elses that was 2 sizes too small. Yes you know who you are and how difficult it was to fit into it. Sorry I ruined your sprorts bra!!!!
What piece of advice would you give someone starting out on this journey
Enjoy it!! 26miles is a long way if you don't enjoy the journey
What keeps you busy outside of running?
My daughter's charity and my disability work
I feel very passionate about children and young people having the same opportunities as others and that just because of my daughter's disability doesn't mean she doesn't make a difference to my life. I have been humbled by how the running world has embraced her ( I have done a few races with her pushing her along in her wheelchair ) and a lot of people have supported my charity work of which I am so grateful for
It's good to make a difference and to live in a world where we are all appreciated no matter who we are