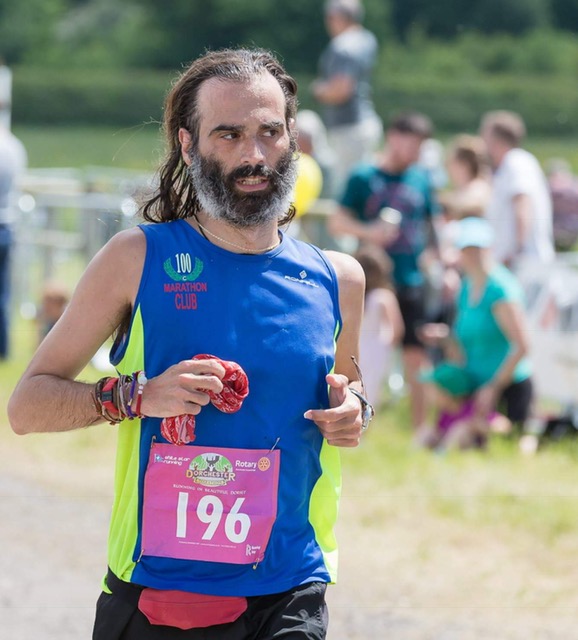 Role on Committee
Welfare Officer
How many marathons have you run?
Over 280.
Why did you start running and tell us about your first marathon?
At the time (2010), a friend of mine suggested to run the Athens Marathon to commemorate the 2,500th Anniversary of the Battle of Marathon. I never thought I'd like the idea of running, and couldn't see myself running another Marathon again. I came back to the U.K. (in 2011) and started training and running all over again. I quickly fell in love with it and met so many wonderful people just by travelling.
What has been your favourite marathon so far? Why?
The Bagan Temple Marathon. November 2019.
I felt very overwhelmed by the humility of the people, the spiritual aspect of the place, the landscape and the culture, which is a home to more than 2,000 Buddhist Temples and Pagodas. The marathon took place in the scorching heat and over a sandy route, but I loved it. It was a personal awakening for me.
Tell us about your 100th Marathon, Where, when, how you choose it etc?
My unofficial 100th Marathon was at Great Barrow Challenge, Xmas Triple 2016. I was officially inducted in February 2017 at an SVN event by Travis, as all of my running friends were there.
What's your approach to training / running outside of races?
I believe that it is paramount to stay mentally and physically fit. Personally, I try to be focused and maintain a good and balanced diet. I don't drink alcohol and try to have as much sleep as possible the day before the race.

I go to the gym once or twice a week to work on my upper body and strength. I've recently started running hilly marathons to work on my endurance and speed.
If money were no object what race would you run and why?
I'd love to run in Tokyo, or any other marathon in Japan.
I've always been fascinated by the Japanese Culture and History and would love to visit the country and run one marathon there.
Running things go wrong for all of us – what's the biggest mistake /upset along your running path?
Staying up late the day before a marathon.
What piece of advice would you give someone starting out on this journey?
I believe that we are all different. I wouldn't necessarily want to give an advice, but if there is one thing I'd like to state is that we are all different runners with diverse abilities. Follow your own path, your own journey, and don't get disappointed if you can't run as fast as others, or if you can't travel as much as others.
It takes time to change something. It's your journey. Make it happen in your own way. Don't let anyone bring you down.
What keeps you busy outside of running?
Apart from my full-time work, I practice Mindfulness and Meditation on a weekly basis.
This has helped me a lot both mentally and physically, to keep a moment-by-moment awareness of my thoughts, feelings, bodily sensations, and surrounding environment, through a gentle and nurturing approach.
----------------------------------------------------------------------------------------------------------------------------------------------------------------------------------------
If you have any club related welfare issues Costas is happy for you to contact him on the email below
Email address: welfare@100marathonclub.org.uk