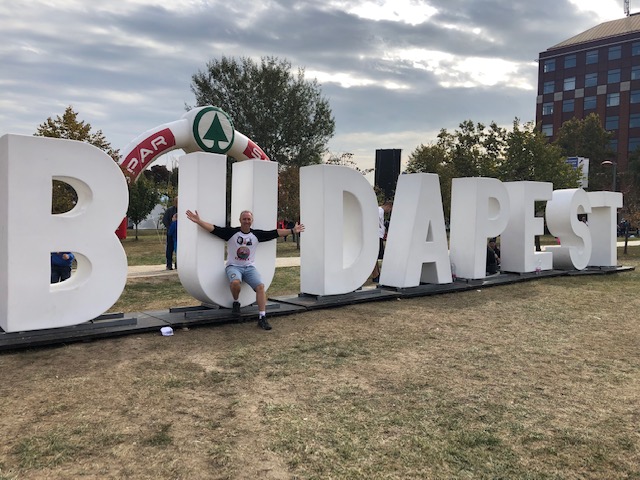 Gareth Davies was awarded Honorary Lifetime Membership to the 100 Marathon Club for his long and loyal service on the 100 Maracthon Club Committee . As Rob Cowlin has now replaced Gareth on the Committee as Website Manager, we discussed which award was the best way for us all to say a big thank you to Gareth.
Gareth has served on theCommittee for 12 years with several different roles within theCommittee. Gareth has served under all four Chairpersons; Roger Biggs, Traviss Willcox, David Lewis & Davey Green.
Gareth joined as what was then called a 'wannabe' Member in 2005 after he bumped into Roger Biggs at the Salisbury 5-4-3-2-1 Marathon and he learned all about that yellow and blue shirt and what the Club was all about.
Roger Biggs co-opted Gareth onto the Committee as Club Secretary after Tad Landucki passed away. Gareth remained on the Committe ever since and introduced the London Marathon place allocations by a voting system in 2013. Gareth also hosted the 100MC AGM Marathon in 2013 which was the Vanguard Way Marathon which is now a regular event for many Members ever since.
Gareth Davies spent a whole year organising the Woolwich Tunnel Centenary Race in 2012 and has been seen Marshalling at Races held by other Race Organisers as well as his own events which are on nearly every Member's spreadsheets; Richmond Park, Vanguard Way, Woldingham and Green Chain Challenges.
You may also have seen him in his role as a Volunteer at the 2012 Olympics, 2014 European Champions League Final, bespoke London running tours or as the UK Ambassador for the Budapest Marathon.
Like many of us, he has travelled extently to reach the milestone of 300 Marathons and has included many cities around the worls as well as LDWA events and some of the smaller off road races.
Gareth most recent role was as Website Manager and has assured us that he will do all that is asked of him in the transition for his successor. You will continue to see him doing 100MC presentations and celebrating milestones and acheivements all over the country.
A massive THANK YOU to Gareth Davies from the 100 Marathon Club !!