Paul Commons aka SEB (scotch egg boy)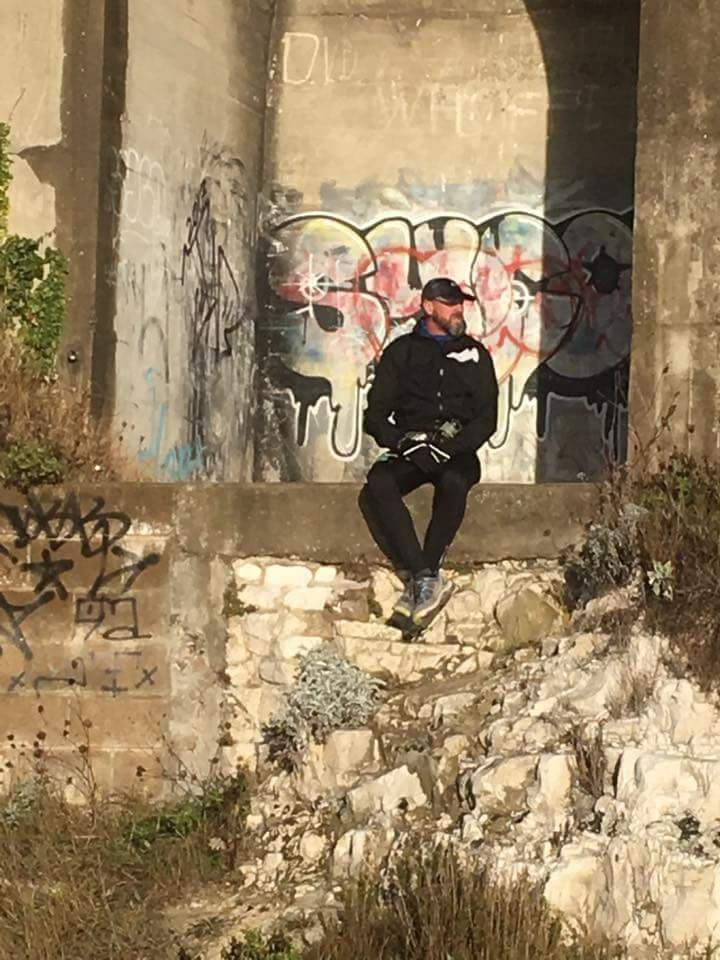 Tell us something unusual (non running) about you
I did martial arts for many years and reached fourth dan black belt in karate. Played semi professional football as a goalkeeper
Number of marathons?
351 to date
Job or occupation ?
Currently working in logistics but trained and qualified in the motor trade as a mechanic
What was your first marathon and what do you remember about it?
First marathon was actually my third event. It was the wettest august bank holiday ever at Betteshanger with thunder and lightning but made up for it with the cake. It was a cakeathon after all.
Who or what inspires you?
I have many inspirations mainly the people I have met along the way. All of which have their own stories to tell from all the race directors to name but a few Traviss and Rachel, Rik Vercoe and David "Foxy" to fellow runners and of course the volunteers all of which have inspired me in different ways and kept me believing I could do it when I had my doubts. My number one supporter is Karen who has been their through thick and thin and is always on hand to meet my demands and remove my soggy muddy and sweaty socks at the end of the race
What is your go to running snack before, during, after a run?
Scotch eggs of course but not just any scotch eggs they have to be MCL power eggs handmade by the amazing mad Chinese lady (Somei Back)
What is your passion outside running?
My cats Charlie and Lola. I also love to support other runners on their journey albeit still running related. Crewing and pop up aid stations at Beachy Head and 1066 giving something back to the running community who have supported me along the way.
What piece of running kit would you most recommend?
Decent socks and footwear. My first 100 miler is testament on how not to do it as the blisters proved as did lack of experience. Toe socks are a game changer as is marmite toast. Thanks Gemma.
Running highlight (so far!)
Completing the TP100. This was my 2nd 100 miler and a calculated risk as the cut off was 28 hours and my first had taken nearly 32. I showed up thinking I didn't fit in and how was I ever going to get it done in the time. At half way I had a diva meltdown and was sent on my way after a change of clothes by Karen and a guy in the aid station. I later met two guys on route who had completed this more than once and with their knowledge of the course all three us made it to the finish. Special thanks to Jools Smith who ran with me from mile 85 to the end after waiting for a long long time for me to arrive.
Strangest race experience?
Getting lost on South Downs 100 going way off course and arriving outside a pub at 2am, sitting on a bench waiting for a lift and the police arriving. Two bearded guys wearing backpacks at 2am in the middle of nowhere took a while to convince the police that we were part of a race. They kindly offered to drive us somewhere but unfortunately we had to call it a day and DNF. Another error of my inexperience. What doesn't kill you makes you stronger!
Ever lost a toe nail and other running injuries?
No toe nails lost but just general niggles. Been very lucky so far and long may it continue
Where do you think you will run your 100th / Did you run it? And why?
I ran my 100th marathon on 26.11.17 as part of a ten in ten series at Saxon Shore with SVN and of course celebrated with an amazing scotch egg cake made by Heather.
My running family are an incredibly important part of my journey. "When you're miling you're smiling"