Martin Storer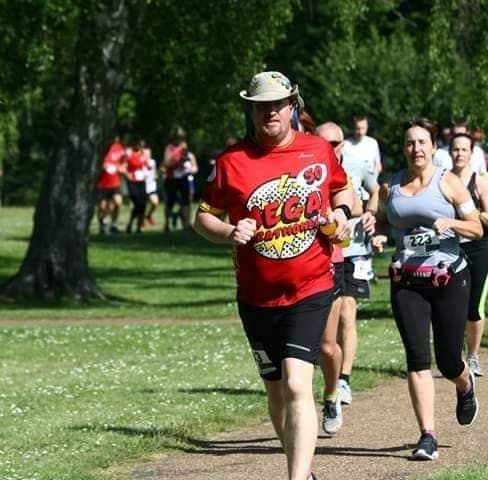 Most unusual none running thing about me is....
I was once a member of the Grenadier Guards, yes the ones with the bearskin hat that stand really still outside Buckingham palace.
Number of Marathons?
Currently stuck at 97 marathons.
Job?
Mechanical engineering.

First Marathon?
My first marathon was Manchester marathon on April the 10th 2016, I remember being very pleased that I made it round without dying! And so glad I didn't put anything in the bag drop as we had finished two pints before my friend eventually returned

Inspiration?
No one person inspires me but I just get super excited about running with everyone, you don't often meet a runner you don't like.

Food before a marathon?
I like a good cooked breakfast before a run and love a banana and peanut butter sandwich at about 13 miles and after a marathon I eat whatever is going as long as it's within 30 mins of finishing I'm happy.

Hobbies?
I don't have many hobbies outside of running but I did take up stand up paddle boarding last summer and yes it is really good for you core.

Piece of kit to recommend?
Love love love my racebox! It's nothing special just a plastic toolbox full of anything I might need but it really does the job. It may or may not have spent some time in other peoples possession thought as I could have left events without picking it up on more than one occasion!

Running Highlight?
My running highlight would have to be finishing my 52 marathons in 52 weeks I still can't believe I managed it, such an amazing achievement especially considering I have my daughters every other week so I basically had to double my way through it.

Strange Running Experience?
My strangest experience was running in the fog at Snowdon everyone had told me it was such a picturesque marathon and I saw nothing.

Injuries
I've had a few but the worst one was severely twisting my ankle at mile 11 of Race to the stones, I stupidly finished the race in 18 hours something and then didn't run for quite some time.

Where was your 100th / Where will it be?
I was going to run my 100th at London because it just felt right after getting my name pulled from the hat in my club ballot but with 3 to go and not knowing when we will be released back into marathon land your guess is as good as mine.