Mark Haynes (@manxbadger)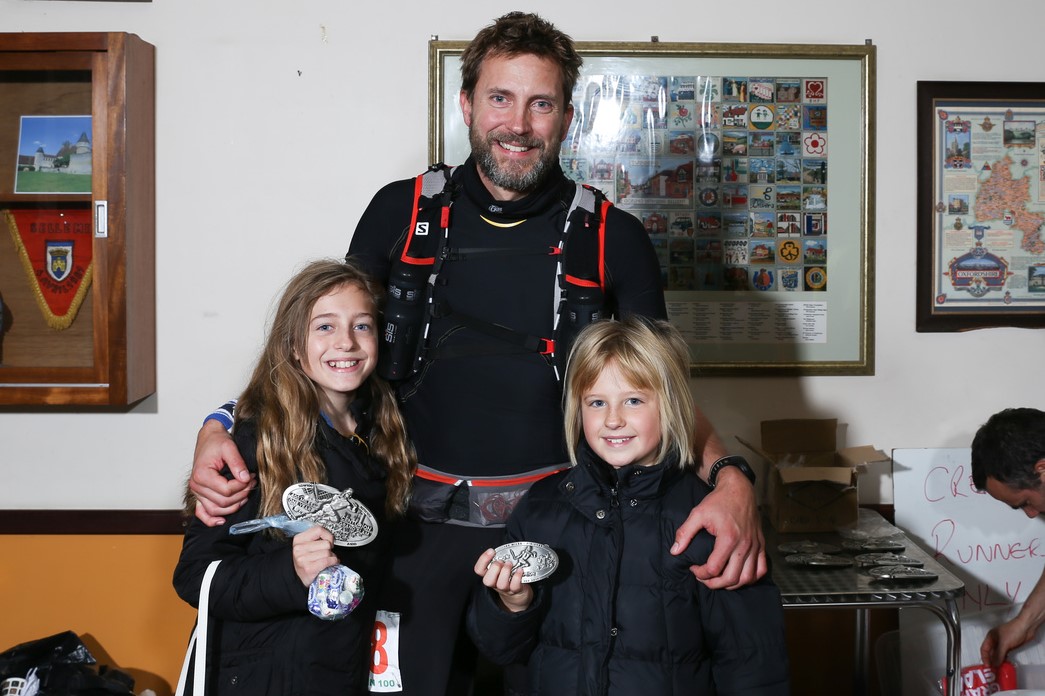 Something Unusual:
A Cancer Survivor who once won a bronze medal race walking 100 Miles under 24 hours on a 400m track to IAAF rules, becoming the 1134th person ever to do since records began in 1911. Believe it or not, it's still my fastest 100 Miles to date!
Number of Marathons:
91
Job:
Chartered Surveyor
First Marathon:
First race was actually an 85 Mile race walking Ultra on the Isle of Man, but my first regular marathon was the 2012 London Marathon and I absolutely hated it. I ran it slower than I had previously walked that distance. Too many people and too much pressure and no one would let you quit – a point I am now beyond grateful for. Although I did it originally for a dare, I vowed I'd never run again, and I didn't…..well for 2 years anyway.
Favourite Pre-Race Feed:
Chips, Cheese and Gravy. Gravy must go on last. And Cake!
Favourite Race Fuel:
Quorn Cocktail Sausages and Pink Foam Shrimps. And Cake!
Favourite Post-Race Fuel:
Pizza and Banana Milkshake. And Cake!
Favourite Kit:
Fresh air, banter and anti-chaffing goo! And Cake!
Running Highlights:
The comradery and lifelong friends I've met on this journey so far and particularly when completing two 10 in 10's will never be forgotten. The best adventure has to be Marathon des Sables. I'm not sure it is the toughest foot race in the world as its marketed, but it certainly brings a certain perspective due to the location and challenging terrain, making you reflect on life and feel like a very small part of this wonderful world! However, the biggest highlight for me has to be finishing the Centurion 4 x 100 Mile Grand Slam in 2015 having ignored my oncologist's words that I wouldn't be able to run one normal marathon in that time frame. It might have taken me 10 hours longer than expected overall, but as the sun climbed and the ground fog rose above my knees on the last 10KM of the Autumn 100M I knew I could beat the "Big C".
Strangest Experience:
Aside from once sleep running into a canal, running the last 12 Miles of the 145 Mile Grand Union Canal Race admiring the famous faces carved in the resin coated path has to be up there. On mentioning the sight of David Beckham and Kylie Minogue etc at the finish line I was laughed at. I was so adamant they were there I went back for a look, which of course they weren't. Run Ultras for the best highs and best hallucinations they said!
Worst Injury:
Apart from discovering the lumps that turned out to be cancerous tumours during the Athens Marathon, it has to be cracking my ribs and discovering a stress fracture to my L5 Vertebrae. The big question is, whilst I know I did my ribs falling on rocks and then ultimately DNF'ing the Arc of Attrition 100M this year, I have no idea when or where I bust my back! It was only thanks to recent "Big C" CT scans that they discovered the damage so a little time out to heal has been required.
Inspiration:
My two daughters provide my biggest inspiration in life. Their love and approach to life fills mine with pride, laughter and a resoluteness to never ever give up!
In the running world I look to friends like Mark Thornberry, who despite being diagnosed with terminal cancer and given 6-9 months to live in 2017, defied the odds to run GUCR and is still running today. Also dedicated and genuine people like Rod Freeman, not only a two time Spartathlon finisher but a double Spartathlon finisher too!
I'd also like to take a sneaky opportunity to thank the enablers; the race directors, organisers and most of all the volunteers that allow us to take on challenges and achieve our goals and of course all of you lot too. The people that love running, jogging, bimbling and walking 26.2 miles and upwards, no matter the time it takes, just doing because it brings a smile and because you can.
100th Marathon:
It was going to be a return to GUCR145M in May 2020. Now I'm not so sure, but somewhere low key and away from big cities most likely. Suggestions welcome!