Tremayne Cowdry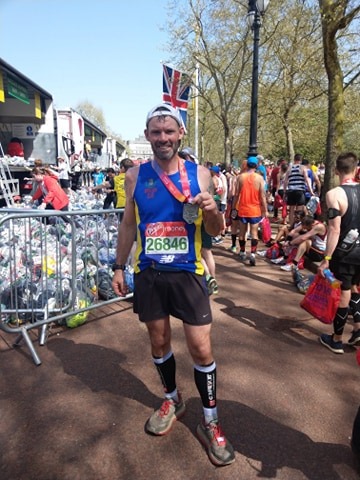 Unusual fact:
I have a nickname of Dill which I have had since I was a toddler and still not shaken off. Some people only know me by my Nickname and some by my real name. Which can be very confusing at times.
Number of marathons:
I should know but I'm not sure. I think roughly 70 ultras and 50 marathons. I will check again soon though as I'd like to hit 100 Ultras for my 50th in 2023.
Job:
I run a landscaping business and also part time race director.
First mara:
Stockholm marathon and I'll never forget it as I was going through a spell of ITBS at the time and was in the worst pain for about 15 miles of the race. I actually had a tear in my eye near the end when I knew I'd finish and at that time Bruce Springsteen's Born to run was playing on a loud speaker. I had that song played on the start line of my 100th marathon too.
Who inspires me:
My running inspiration is Scott Jurek. Total legend of everything ultra running. Multiple wins at Western States, Badwater, Spartathlon, Hardrock and the former US 24hr record holder. Also a thoroughly decent bloke and I got to meet him last year. I was seriously star struck.
Running snack:
Before I run I eat Muesli which seems to keep me going. During is a bit of joke among friends how I can survive for days on GU gel. After I usually crave a Costa coffee and cake or pizza after a big race.
Passion outside running:
I love being in and around the lake district. If I wasn't there running I would happily hike for the day.
Running Kit Recommendation:
So many! If you had to nail me down to one it would be my La Sportiva Mutant shoes. A perfect trail/mountain running shoe.
Running Highlight:
So many of those too but the one that will stay with me for life and doesn't even qualify for the 100 club is my Bob Graham Round last year. 42 Lakeland peaks in under 24 hours is the challenge and to have completed it with a load of friends and family there was an amazing experience.
Strangest Experience:
The strange stuff always happens when sleep deprived. I've gone 50+ hours without sleep during races on two occasions. After a while you get hallucinations but go beyond that and I've had full outer body experiences where I have have not actually had a clue who I am or where I'm going. During the last climb at UTMB I thought we were all walking to work and couldn't understand why all these people were coming to my place of work. I actually asked someone what they thought they were doing. Luckily they didn't speak English and just thought I was a bit of a nutter.
Injuries:
I've certainly lost a few toe nails and both my big toe nails are still a bit black from my Bob Graham over six months ago.
100th mara:
My 100th was at the Thames Meander. Dave Ross is a good friend and he had my song playing at the start, 100 as my number and presented my shirt at the end. It was a great day and I ran with some great friends.