Zoe Cook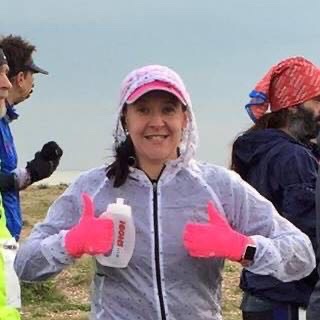 Something unusual
my maiden name was Edwards and my initials used to spell my name Zoe Olivia Edwards Z.O.E
Marathons?
144 marathons so far
Work?
I work for Enfield Council in Housing
First Marathon and What do you remember?
My first marathon was Manchester in 2013 - at that time, I loved the training and hated the day! Too much stress!
Who Inspires you?
The person who inspired me to do multiples and go onto join 100 club was Lee Edwards. (He doesn't know this!) I noticed what Lee was achieving through his posts on a Facebook group - run the distance I think! And we had a few messenger chats on how! Just how! Do people do multiples?? I'd come from a traditional running club of 50 members and ended up being the first known on record for that club to join the UK 100 marathon club
Whats your Go2 Food?
I'm completely useless with food for fuelling and simply just gain weight! Have no real go-to.... I have what I fancy
Recommended Kit?
I have a few pieces of running kit I recommend are for investing into - injiji toe socks (my feet have never loved me so much), my OMM waterproof jacket and this year ready for my 100 miler - OMM trousers (I didn't think I'd use them but they now make me go out in downpours and keep me warm)
Running Highlight?
My running highlight is the amazing people I've met, the running family that I'm currently missing during this time and how I can feel part of something great!
Favourite Race?
My favourite race is Las Vegas Marathon purely I believe because I love Vegas, I was on holiday, I did a time I was proud of 4:30 and got lots of bling and memorabilia of the race which I still wear.
Toenails and Other Injuries?
I've never lost a toenail and I've been fortunate to never be out long with injury - my recommendation is frequent sports massages as a preventative measure
Strangest Running Experience?
My strangest running experience is probably finding myself during my 10in10 at Great Barrow singing Christmas songs (with my chuckle sister) as it was the only thing we could think of on day 5,6,7 etc with marathon brain on a 30 degree day heat in July!
100th? Where was it / where will it be?
My 100th marathon was with Traviss at Cookieathon in May 2018... a fantastic mayday but my god it was hot! I regularly watch my presentation video and feel proud and thankful Traviss made me feel special that day!
Keep on running! Keep on chatting!