Rob Smith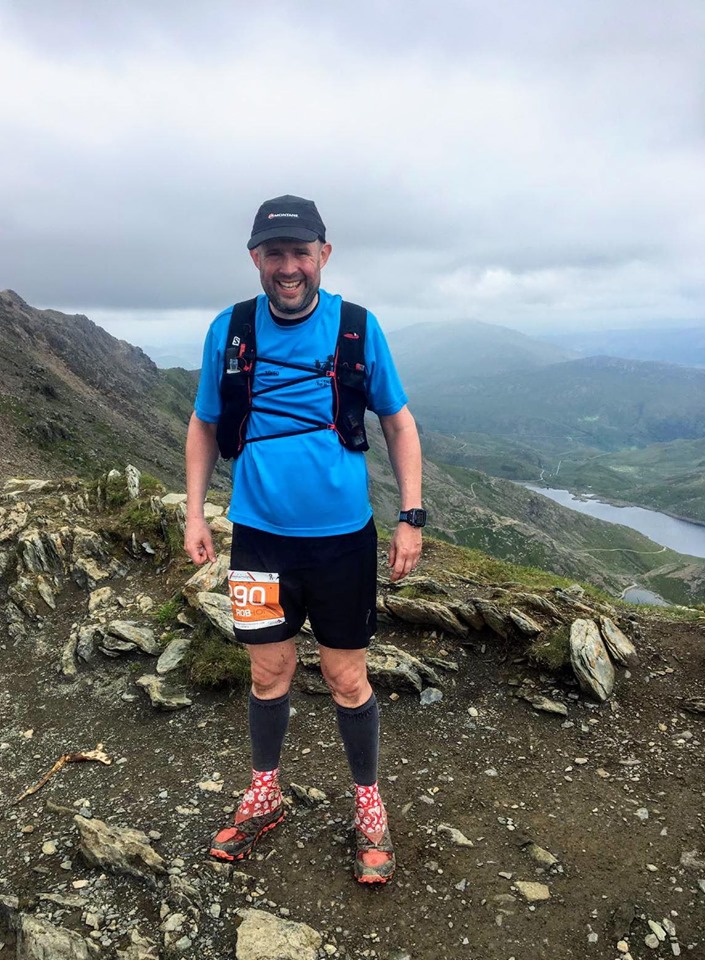 Tell us something unusual (non running) about you-
I can play the piano and my favourite musical is Les Miserable which I have seen 5 times.
Number of marathons?-
64
Job or occupation ?-
Corporate Banker
What was your first marathon and what do you remember about it?
My first marathon was the New York Marathon in 2010. I can remember it being a sunny day but bitterly cold and having to wait nervously for hours on Staten Island before the start. I can also remember running through the Bronx and was about to stop for a walk when a chap in front of me had the same idea, a huge bloke spectating then shouted 'I came out here to watch you run not walk, get that ass moving!' Needless to say I found some energy and didn't stop for a walk at that point!
Whilst I found the marathon tough, I loved every minute of it and caught the marathon bug.
Who or what inspires you?
I blame my local running buddies Dan Perry and Simon Martin for getting me into running multiple marathons. Seeing them on their journey to the 100 inspired me and got me thinking that I could possibly do the same. Through running various events, I have formed a great friendship with Steve May and Beth Taylor-Jones, both have proved to be a huge inspiration to me and we have been on so many adventures together and I have made friends for life. During my journey so far I have made many other great friends and to be honest anyone who makes the effort to run a marathon no matter what time they do it in inspires me.
What is your go to running snack before, during, after a run?
My standard meal before a marathon is fillet steak with sweet potatoes and salad. On the morning I have a bowl of muesli, a banana and a packet of belvitas washed down with a peppermint tea. During the race I have shot bloks, medjool dates together with any other snacks available on the aid stations. I am not a huge eater immediately after a marathon although the following day I destroy anything put in front of me!
What is your passion outside running?
Aside from spending time with my family, I also love listening to music and going to gigs. The buzz I get from listening to live music is akin to the buzz I get from running a marathon. I am also a West Bromwich Albion season ticket holder for my sins!
What piece of running kit would you most recommend?
My essential piece of race kit?
My hydration vest. The bottles are filled with Coca Cola for that mid race boost and I always ensure that I have my shot bloks, medjool dates and a Mars Bar for my 20 mile treat!
Running highlight (so far!)
One highlight was finishing my 50th marathon at the Firelighter Ultra last year. It was 36 miles around part of the Anglesey coastal path starting at 1pm, so part of the race was in the dark which in 45mph winds certainly made it more interesting. It was a great day of running with Steve May and the finish line committee of my partner, son and parents made it all the more special.
Strangest race experience?
My first two marathons, the New York Marathon in 2010 and the Berlin Marathon in 2011, I beat the great Haile Gebrselassie both times!
Ever lost a toe nail and other running injuries?
I tore my calf muscle towards the end of a 10k race. When it happened I genuinely thought I had been shot in the leg! I managed to hobble over the finishing line in a sorry state which was unfortunately being filmed and shown on a big screen!
Where do you think you will run your 100th
I was hoping to run my 100th towards the middle of next year, however due to this minor inconvenience I may need to reconsider. I want my 100th to be a relatively local race so friends and family can come along. I also want there to be different distances available so some of my running mates can join in without having to run a marathon. My final wish is to run my 101st the following day so I can wear my blue vest with pride!