Apryl Hammett (Mrs.H)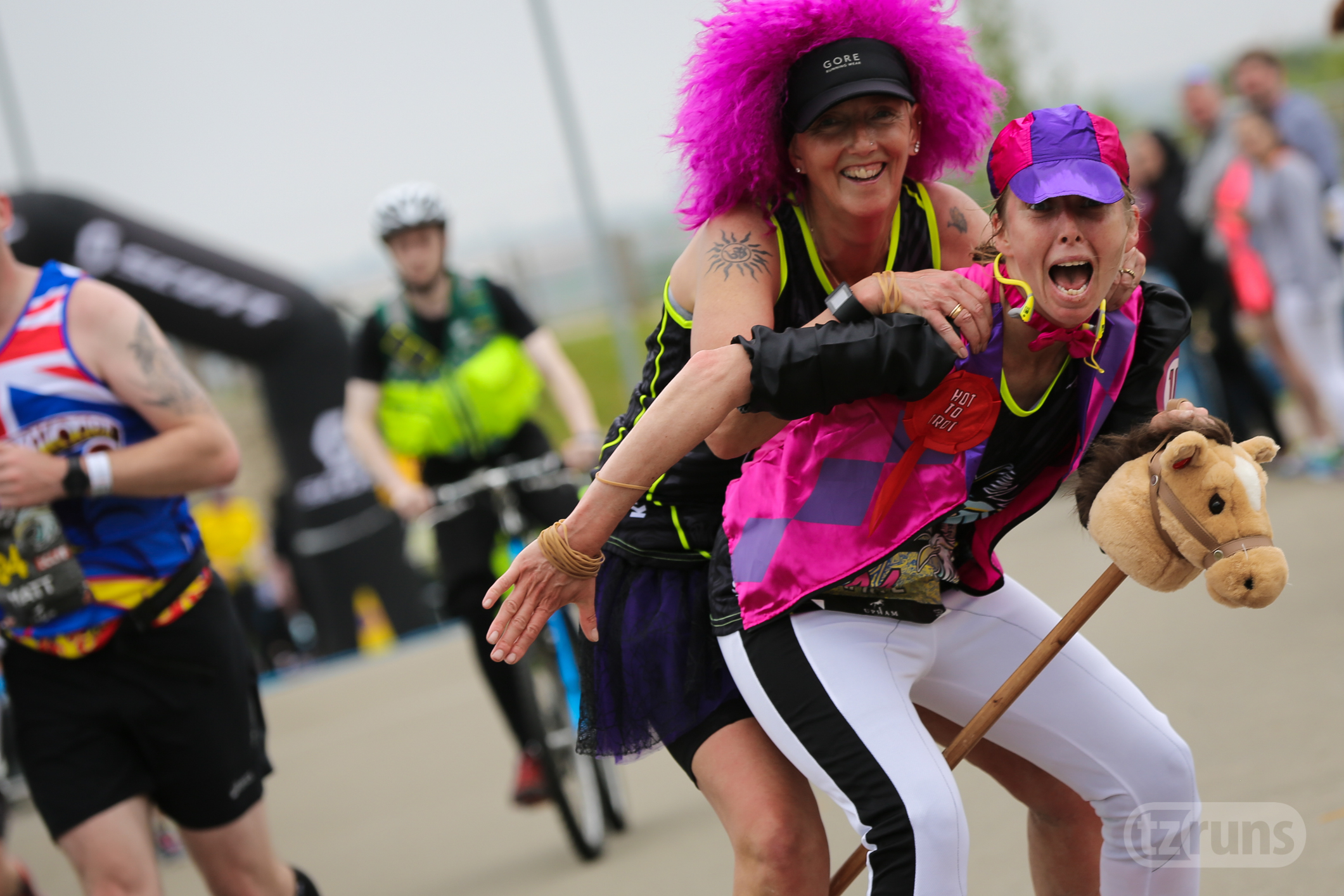 Tell us something unusual (non running) about you
I'm a Scout Leader called Baloo. I look after Beavers (youngest scouts aged 6-8) at Chelmsford Cathedral.
Number of marathons?
274 And as of Wednesday plus one virtual marathon.
Job or occupation?
A School Librarian
What was your first marathon and what do you remember about it?
London Marathon 2003: I was so nervous! I had followed a 16-week training programme and taken advice from everyone. I found out then that I didn't like Lucozade or gels, and that everyone has their own way of running. I don't wear a watch, I run how I feel, not for a time.
Who or what inspires you?
Everyone I meet on the running circuit inspires me. The world is full of amazing people and everyone I meet has their own story. When you run with someone you often talk about what got you to that moment, and no two stories are ever the same.
What is your go to running snack before, during, after a run?
I always chocolate milk after a run. However, I will eat anything. Aid stations produce an array of food which I am always happy to try (Favourite Aid Station – Sikhs in the City Marathon)
What is your passion outside running?
My family. We are a close family and enjoy each other's company whilst all being very different.
What piece of running kit would you most recommend?
A good pair of trainers and for women a decent bra.
Running highlight (so far!)
There are two for me. One was when I completed the Grand Union Canal race in 2018, which is a 145-mile run from Birmingham to London. I was so nervous, I went to Birmingham on the train on my own, and never actually believed I could do it. I had so much support from so many 100MC members and without them I couldn't have completed it. Massive thanks to 100 MC members Paul Bridges and Somei Back who supported me in the middle of the night and to Ian Brazier and Paul Mason who gave me their advice of the GUCR having already completed it.
Hare and Tortoise medal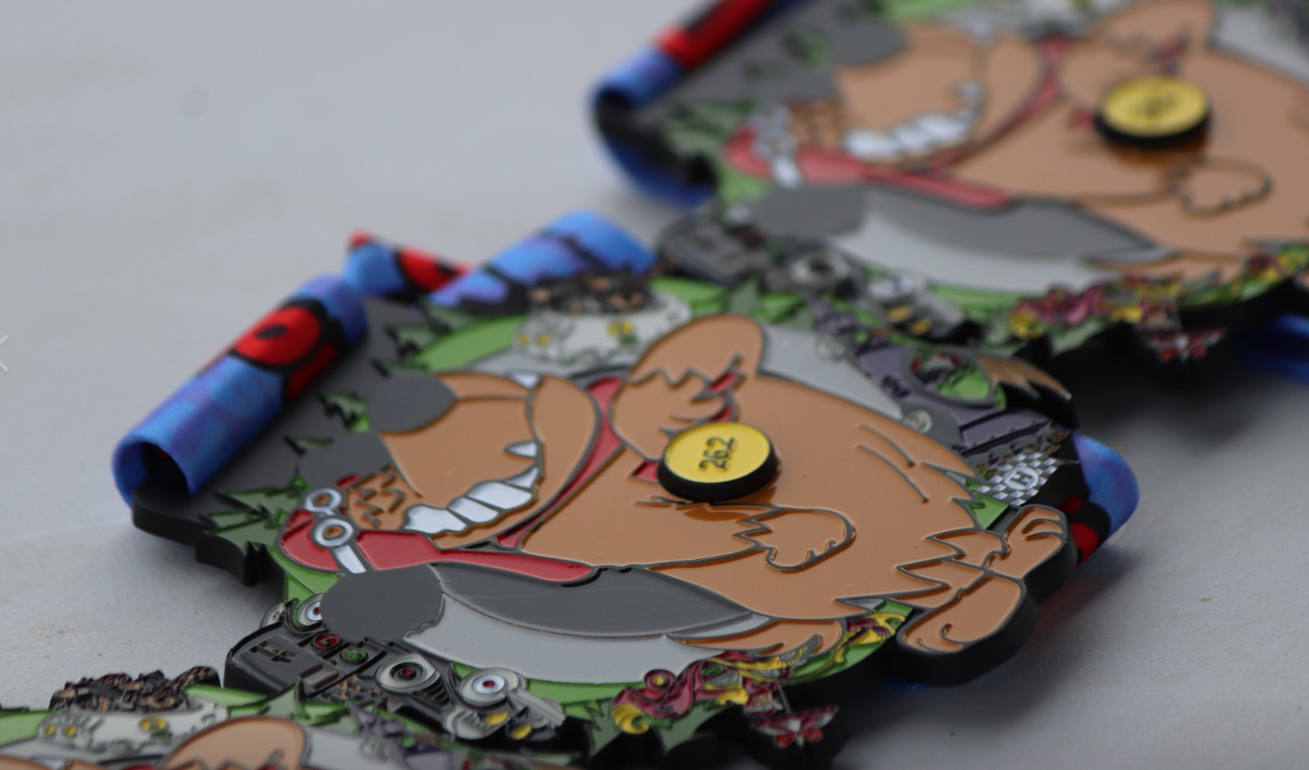 As most people will know, I love a medal, I mean I really love a medal. One of the medals I always wanted was a 'Muttley Medal' and always used to drop it into conversations with Race Directors about them having a Wacky Races marathon. The Hare and Tortoise Running Company hosted their first race, and I asked them then! 18 months later I ran their Wacky races marathon and in the corner of the medal it has an H for Mrs. H.
Strangest race experience?
Hallucinations. Before I attempted my first 100 miler, I read many race reports and people had spoken about hallucinations. On the Viking 100 (which is a lapped event) I ran the last marathon with my husband and it was still during the night. We went out and I saw the most amazing hallucinations that were all from children's books. When I was coming in from my final lap, I looked ahead and thought I saw the 'Tiger who came to Tea' I checked with my husband who said, 'I think you will find that there are no tigers eating cakes, and he was right!'
Ever lost a toe nail and other running injuries?
My toe nails are a thing of the past, they are a disgrace. I currently have one that is intact and not black. Let's move on…..
Where do you your 100th marathon?
I shared my 100th marathon with the fabulous Theresa Massey. It was the Usual Suspects at Samphire Hoe in December 2016. I ran it with Saxon, Vikings and Normans as it had been Traviss and Rachel who had introduced me to the world of multi day running. My friend's daughter had passed away, aged 10 and I was raising money for the local children's hospice called Little Havens. I said that I would run a marathon and everyone said that I had run a marathon before so I had to do something else, and I randomly said I would run 2! My friend Paul Bridges introduced me to Traviss and as they say, that is where it all started. 2 years later I was celebrating my 100th with Theresa, Paul and my family. A very special day indeed.
Advice to runners?
Run the way you want to. Have a walk, have a chat, have a sing and have a cry if you need to. Running is your time and is about you. If you are fast – that's great, and if you are enjoying the party at the back of the pack that's also fantastic. I love a medal and others couldn't care less, but the main thing is about doing it the way you want to. Keep safe everyone Mrs. H x