Ian Pukie Spriggs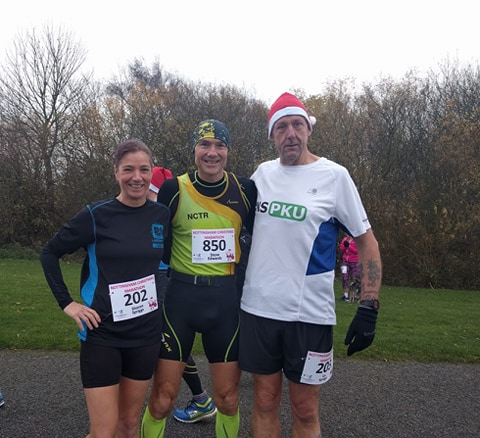 Tell us something unusual?
Had to look after ( bodyguard) linford Christie at Crystal palace athletics stadium. Nearly killed me trying to keep up with him. I hadn't heard of running in those days.
Number of marathons
70. 30 road, 27 trail, 13 ultras
Job
Caretaker in a senior school. Kids keep us busy with their shenanigans.
1st Marathon
The reason I started running was to complete a Marathon. It was Snowdon Road Marathon in 4:18. 2 memorable things. 1, getting a tad emotional about a mile from the finish, thinking, I achieved what I set out to do and 2, crossing the finish line with my future wife, though I never knew that at the time.
Who or what inspires me
Lots of people and their stories are inspiring but 2 people constantly in my life and running inspire me most. My wife Sharon, without her and her knowledge, support, plan writing there is no way I'd of achieved half of what I've done. Secondly, Marathon man Steve Edwards. We went to the same school, lived streets apart. Though for 30 years our paths never crossed till I saw him being interviewed at the Brighton Marathon in 2015. Since then he has offered constant support and help and its 100% his fault I am aiming for a 100. Was on 5 or 6 when he first suggested it.
Favourite running snack
Without fail, 2 hours before a Marathon I eat Soreen malt loaf. On an ultra I only eat real food, sweets and pork pie/ sausages.
Passion outside running.
I dont really have one as running has consumed my life. I met Sharon while training for that 1st Marathon. I ended up marrying her and relocating to cumbria from Berkshire. She runs, my daughter now runs, they support me at events and I them. We rarely train for and run the same events so we are constantly consumed by running. The only other thing I do, is read. I hate not having a book on the go.
Piece of running kit.
Shoes, get it right. For me my favourite are new balance 1080's. On long runs, nipple tape is highly recommended by myself.
Running highlight
I have 2. That whole 1st Marathon, snowdon 2014 and 2019's thames path 100. I was determined to run it all by myself but asked wife to run last 2 miles with me, it was more important to me than saying I ran it all on my own.
Strangest race experience
This is easy as it happened not long ago. 1st of march actually at the gbultras chester 50. Two miles in, I ran straight into the canal. No tripping, stumbling etc, I just ran straight in. Got out, carried on and finished.
Toe nails / injury
Been very lucky on the injury front. Been running 7 years nearly, started age 46. About 3 years into it I had a piriformis issue for a few months. It disappeared when I did my 1st cumbria way ultra. As for toe nails, I cant remember a time when at least half were not black and I am constantly losing nails.
100th?
The 100th I was kind of hoping it would be next year, it still maybe but I'm not sure of where. Ideally go back to Snowdon for a 3rd time, but I'm not a fan of ballot entry into an event. But it maybe Windermere Marathon, that's another of my favourites.