Richard Boese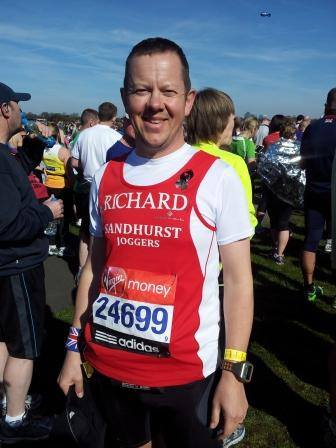 Tell us something unusual (non running) about you.
I once got lost in the dessert in Libya and had to walk 6 miles from a trapped car to be rescued, having no phone, no gps, a compass and a paper map which I made into a hat to keep the sun from cooking my head.
Number of marathons
93. Should have been 96 at the end of March but a combination of illness, Storm Ciara and Coronavirus meant I couldn't run them.
First marathon?
London in 2013. I had a target of 4:30, but got a foot injury 2 weeks before and came in at 4:35. It was painful because of my foot but a great experience. I thought I could at least get to my target time and at my second at Portsmouth I did 4:14, then someone said I could go sub 4. After Greg Ward said to me fewer people get to 100 marathons each year than climb Everest, I was hooked.
Job
Geotechnical Engineer. I work on major infrastructure projects and local flood protection schemes. I have also been the chairman of my local running club Sandhurst Joggers, where my motto is "Everyone can run a marathon, eventually."
Inspiration
My inspiration comes from all of my friends and the people I meet at marathons who do amazing things running.
Running Food?
What is your go to running snack before, during, after a run? Pre-race it's got to be porridge and banana, during a race it could be anything, but I will always have a jaffa cake if it's there. Afterwards I like to recover with a bit of a guilty pleasure - a KFC zinger burger!
What is your passion outside running?
I'm a keen drummer, though I have never played in a band. I'm still learning. It's very theraputic.
What piece of running kit would you most recommend?
I got a huge mileage out of my Hoka Mafate Speed 2s, over 800 miles which made them pretty good value. Other than that, I might suggest rainbow coloured leopard print leggings, as worn by Ruth Benzimra. Guaranteed to make you smile when having a hard day and running happy is the secret to any successful marathon.
Running highlight (so far!)
That would have to be Brighton marathon 2015, which was not that well organised for such a costly event, but it was the nearest I have run to a perfect race, nailing my target 9 min/mile pace on every mile up to 22, when I then just got quicker and quicker finishing mile 26 in 7:30. Ten paces later I couldn't move a step, so I had left it all on the course. It's still my PB.
Strangest race experience?
On my first run at the Farnham Pilgrim passing through Britty Woods not far from the finish, I saw a woman off to the left kneeling within a 5 pointed star on the ground, then another in witches costume leapt out from behind a tree screaming! Scared the life out of me and I finished the last couple of miles at a damn good pace!
Ever lost a toe nail and other running injuries?
I have had a few Achilles injuries, and a bit of patella tendonitis, but my biggest problem right now is a massive pain in the arse - yes, I have glute issues! I have never lost a toenail, so I feel a bit of an amateur in that respect.
Where do you think you will run your 100th?
I had planned my 100th to be at this year's Farnham Pilgrim - my favourite marathon, but coronavirus has probably put paid to that. I probably could run enough marathons before then, but I wanted to get fitter this year in the lead up to that run, so I could make it a really good performance as well. I'm expecting spectacular fixture congestion in the autumn as races get rescheduled, so I'm not sure yet where my 100th will be.