Dan Perry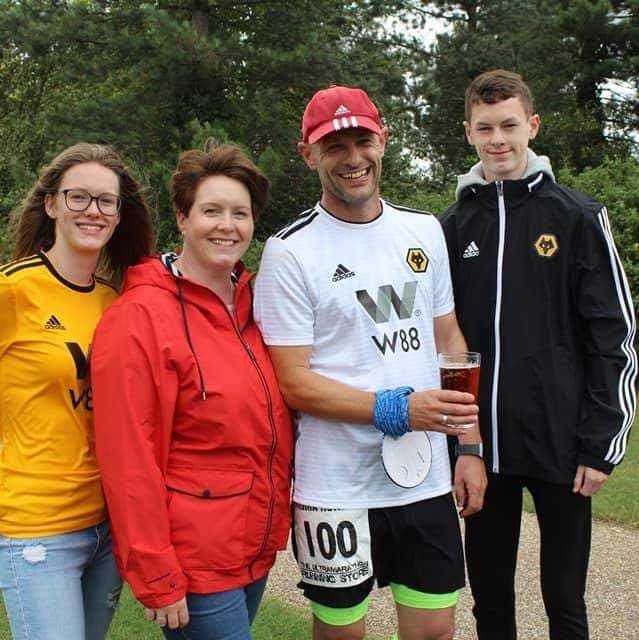 Something unusual about me ?
I've got a ballroom dancing certificate for the Cha Cha, I've accidentally shot a sheep with a machine gun and I used to have tarantulas as pets.
Number of marathons ran
114
Occupation ?
I'm a street lighting electrician working mainly in Telford.
First Marathon?
My first marathon was the Cotswold challenge in Gloucestershire I believe it was only my 7th competitive race of any distance. I ran it with a hundred club member Joan Clarke, she was a local running club member and knew my brother from many races. The race itself was very tough at the time and self navigation plus my naivety with running made it doubly so I managed a blistering 6:56 and thought I was dying. No more marathons for me.... well for a while.
Who inspires me ?
The sudden death of my brother a little over 10 years ago started me on the journey of running ( he was on 25 marathons/ultras and I've no doubt would have been one of our club members). At that point I was a couch potato no exercise whatsoever. My brothers club put on a memorial run and invited all the family along. I remember running the 5k course and kneeling in the snow to cool my burning knees, I vowed running was not for me. However Mark's club mates coaxed me out again and gave me advice they inspired me massively. Then along the marathon journey I was inspired by people that I bumped into along the way that shared stories of their triumphs and disappointments. people like Ruth Benzimra whom I shared bits of a horrific 100 miler, Kat McVicar on her world record attempt. Foxy and Karen who made me feel part of a family.
Favourite running snack?
Love a full English before a marathon, I've been know to eat a Ginsters during a race and absolutely anything goes afterwards
My passion outside of running
Cheering on my beloved Wolverhampton Wanderers with my boy.
The piece of kit I'd recommend
Leave you watch at home occasionally there's so much to see and people to meet along the way give pace a miss and enjoy the journey
Running highlight?
I have two, finishing 7 in 7 and running my first 100 miler, I was crippled after both but felt they were massive achievements, raised a Bob or two for charity and the support on and off the field was overwhelming
Strangest race experience?
Being chained to a friend for 65 miles or stumbling along the Long Mynd alone at three in the morning looking for a pole with a hole punch attached to it
Injuries?
I'm -4 on the toenail count, but my worst injury so far was a few stress fractures in my shins.
Where was / will be your 100th and why?
My 100th was at Caldecott lake with Foxy, it was an amazing experience and capped off what was I brilliant journey which I've met some incredible people along the way.