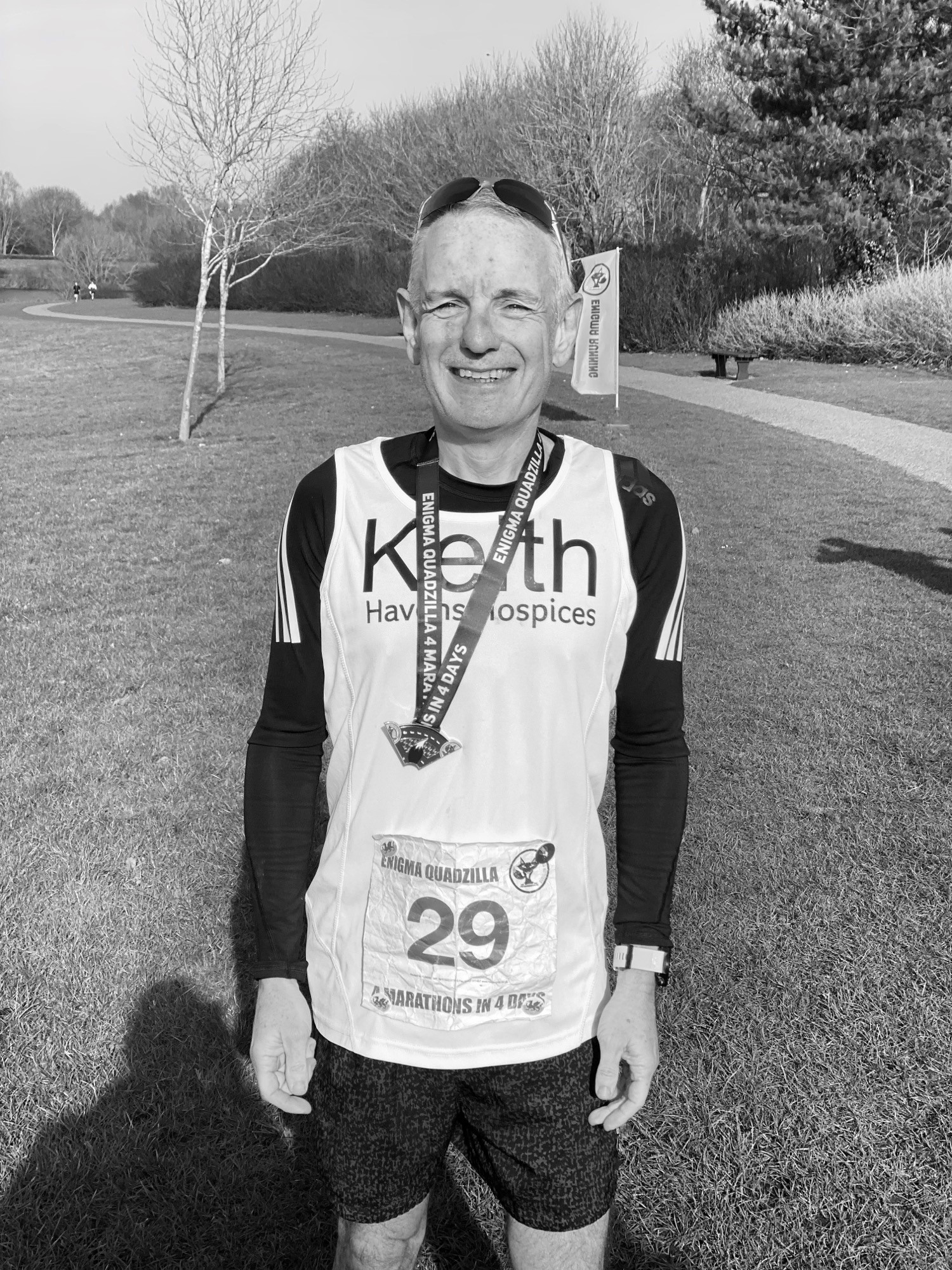 Keith Luxon
How many marathons have you run?
301
Why did you start running and tell us about your first marathon
It was a bucket list thing. Vaguely had it on my list to do a marathon by the time I was 30 despite doing no exercise apart from a twice a year five a side. 6 months before my 40th Birthday in 2007 I kinda knew it was now or never. So without any understanding and never having run I signed up for the New York Marathon – it was on a month after my 40th so almost fitted albeit ten years late. I figured if I paid in advance for it then I would have to do it!
It was the best of times it was the worst of times. New York is an amazing city and the crowds and support rival London for noise and energy. Training had gone well – apart from a niggle a month out leaving me doing my last LSR on a treadmill! The Expo blew my mind and the pre race village despite being cold and far too early was awesome. I started and ran the fastest mile I would run in a marathon for about ten years as my first mile (it began with a 5 !). Totally got carried away with it. Mile two was pretty good. The next ten Ok but by half way was struggling and started going backwards badly as the race went on. Pretty it wasn't but I finished and knew I had to do "just one more" to do myself justice so I could then move on. London 2008 went perfectly and I was hooked.
What has been your favourite marathon so far? Why?
London is so hard to beat. I know its difficult to get into (never got in via the ballot!) and I know the course can be pretty crowded and frankly a bit dull in places but for a brilliant day out, the crowds, the fellow runners, the carnival atmosphere, the charity fund raisers and supporters its just brilliant. No other race like it in the world. I am lucky enough to be doing my 10th London this year and if I was limited to just one event a year it would be London.
If not London then Comrades in South Africa. It's very very special. Starting in the dark with the cock crowing and knowing you will run all day across some pretty interesting Africa hills as the Sun comes up, the crowds barbequing alongside and the theatre of the finish with its time based medals and strict cut offs is something else. If you only ever do one Ultra do Comrades.
Tell us about your 100th Marathon, Where, when, how you choose it etc?
Sacrilege I know but the big numbers for me are simply waypoints in a journey rather than destinations in themselves. I have seen too many friends fall out of love with running chasing a number and cramming in races to get there. I knew 100 would come and go but it was like an aid station you grab something from rather than stop for ages to gorge at.
My 100th was spent with my running friends at Day Three of the Enigma Quadzilla – the year it changed due to weather to Furzon Lake. 17 times round and round and round….not ideal but actually very social and great to see people so often. Broke the habit of a lifetime and had a cake (I don't like cake) a beer and then got to do it all again the next day. I recently hit my three hundred oddly also on Day Three of the Quad, must be fate!
Whats your approach to training / running outside of races?
I am all or nothing. If I have a goal then for me I am all in. I plan it, get the wall chart, plot every training session and largely follow them. Its about pushing myself to see what I can achieve and to do that a plan keeps me honest and working hard. For those interested I used a version of the Pfitzinger + Douglas advanced marathoning plan, both last year and this year. Last year it got me a PB ten years after my last one and I am hoping to improve on that this year. Its odd but I enjoy the hard work more than the easy sessions.
I am also a big reader of running theory books, if you ever want to borrow a running book I probably have it. I like understanding what scientifically works and what doesn't and why, albeit we are all "an experiment of one" so its as much about adapting what I read as adopting it.
When I don't have a goal my mileage drops totally and I drift until I find something else to excite me and get me motivated to work hard again.
If money were no object what race would you run and why
I have been lucky to run some of the worlds great races including the Majors. So it would have to be something different, maybe the Antarctic Ice Marathon as being just a once in a life time experience (while we still can) in an amazing and unique part of the world.
Running things go wrong for all of us – whats the biggest mistake /upset along your running path
Probably that first mile in my first marathon but if everything had gone well I might have stopped running after doing one, getting the T shirt and moving on.
What piece of advice would you give someone starting out on this journey
Treat it as a journey, running is a life skill and has huge benefits for mental and physical health. Its not (for me) simply a way to accumulate more T shirts or bits of medal (although shinny ones are nice). Try and stay enjoying your running for as long as possible without it ever becoming a chore or a burden – no one makes us do this we choose to and we pay for it – so enjoy it. If it's a chore find something else to do until you crave running again.
Secondly its your unique journey do it your way. No one else is on the same path as you or has the same motivation or goals. So whilst its great to celebrate others goals and achievements they take nothing away from your own regardless of who has run more/less, faster/slower etc. The fastest runner should crosses the line first but the best runner is something we can all aspire to be.
What keeps you busy outside of running?
At the moment training for Manchester keeps me pretty busy in addition to a full time job and a commute. My family indulge my running addiction and I couldn't do it without their support. I am also a Justice of the Peace (magistrate) although have recently stepped back from that and am on the reserve list and was for seven years a School Governor / Chair.