Jay MacDonald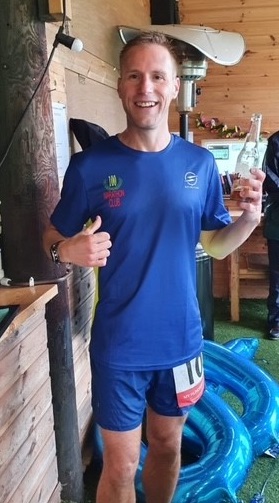 Role on Committee
Website Manager
How many marathons have you run?
119 (although around half of those are ultras)
Why did you start running and tell us about your first marathon?
I started running at school because of my old PE teacher who used to take a small group of us out at lunch for cross country but despite me not being very good, I loved the group aspect of what is effectively an individual sport.
A few years ago I contacted my old PE teacher on Facebook and told him I had just completed 100 marathons and it was effectively his support which got me into running in the first place - I like to think that made him feel a sense of pride!
My first marathon was London Marathon in 2008 which I finished in 5:55 and despite the fact I couldn't walk for days, I couldn't wait to book the next one! My next two marathons were also London in 2009 & 2010 but with very little running between them!
What has been your favourite marathon so far? Why?
I love running. I also love a beverage or two. Combine the two and you have a winning formula! Marathon du Medoc in France and Beer Lovers Marathon in Belgium were both amazing. Running with friends in the sun with regular stops for wine/beer/food felt like I had died and gone to heaven.
London Marathon for the support and the feeling of running past the iconic sights of London is hard to beat. I've done it 8 times and if I could improve my speed by a few minutes to regain my GFA place, I would do it every year.
On the ultra side, it is Spartathlon without question. I trained so hard to give this race the respect it deserved and there was no way I was going to sacrifice so much and not finish that race. The heat, the 153 mile distance, the pace required to beat the cut-offs, the mountain, the falling asleep while running were all challenging on their own let alone combined. The finish in Sparta is the best race experience of my life and I don't think it will ever be beaten.
Tell us about your 100th Marathon, Where, when, how you choose it etc?
My 100th marathon was the Ousden Owl Marathon in October 2020 at the Suffolk Running Centre. It's not far from where I live in Bury St Edmunds and I had a few friends come from London, Ireland and the Midlands for it along with my wife, 2 boys and my in-laws. It was windy and poured with rain the whole day, I got lost and all that was on my mind was that people were waiting for me to finish … overall, it was not one of my finer performances!
Rob Marshall presented my long awaited 100 Marathon Club t-shirt and we had a few beers and cake! It was during one of the slightly more relaxed COVID restricted times but meant only 6 people were allowed to attend the celebratory lunch but we had a great time nonetheless.
That day perfectly sums up the quest to join the 100 Marathon Club - it's all about the journey not the destination. 99 memorable races and one easily forgettable one!
What's your approach to training / running outside of races?
In recent years the volume of my training has reduced but I still love running as much as I've ever done. I would love to say I've replaced quantity with quality but that would be a lie! I do still think I've got a PB left in me so I want to focus a bit more on quality this year. I've also never followed a 'marathon training plan' so I might give that a try one day!
I used to run 8-10 miles a day as part of my run/commute but since moving to Suffolk and working half the week in London it's not as easy to get the volume in. You really do get out what you put in but I'm happy with my training volume and respective marathon performances.
If money were no object what race would you run and why?
It would have to be JOGLE - To run from one end of the country to another would be an amazing experience and it's an itch I think I just have to scratch at some point!
Running things go wrong for all of us – what's the biggest mistake/upset along your running path?
I DNFd at the Keys 100 in Florida at around 63 miles. It was part of a trip to Florida with a couple of friends and it's fair to say I underestimated the preparation, the heat and humidity. I made it across 7 mile bridge without getting run over and it went downhill after that. I regret the fact I pulled out and I'm still disappointed to this day - I would love one day to go back and put that right.
What advice would you give someone starting out on this journey?
Everyone has a piece of advice but that's typically what works for them - only you know what works for you so take all the little snippets of advice you hear and form your own version of you as a runner

Set incremental goals and appreciate that you'll get there in the end

Enjoy yourself
In summary, don't overcomplicate things, it's just running!
What keeps you busy outside of running?
I'm married and have two amazing boys Toby (6) and Barney (3) and as anyone who has kids will attest to, that's what keeps me busy!
I work in Product Management for an investment company and I work 3 days a week in the London office. This gives me opportunity to focus on myself, my running and going to the gym.