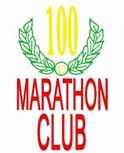 Members Code of Conduct
Code of Conduct for 100 Marathon Club Members
We believe all members of the club should be treated equally and fairly and should know what is expected from them by the club. This means standards and guidelines are in place to ensure we get the best from our runners representing the club. The standards outlined below apply whenever representing the club at an event or meeting, whilst travelling to and from events and when a member wears items of club kit.
Behave sensibly and with consideration for other runners at all times

Learn and respect the rules and don't disobey or argue with Race Directors or other people who may be in authority.

Do not behave aggressively, either verbally or physically to anyone, no sexual or racial harassment, intimidation or bullying.

Challenge inappropriate behaviour and language by others

Never engage in any inappropriate or illegal behaviour

Do not use unnecessary swearing or obscene language or gestures.

If a first claim member and running in an event that holds a UKA permit or offers a discount to EA affiliated runners and has been entered as a 100 Marathon Club Member, the member is normally expected to wear club kit.

Leave facilities and venues in the same conditions as you find Conduct on Social Media

Whenever a member posts on social media pages connected with the club, they are representing the club and should not be abusive, offensive or derogatory. The Committee reserve the right to remove posts in breach of this code and to exclude the member from making further posts or comments.

The 100 Marathon Club recognise that many runners make use of social media in a personal capacity but when acting on behalf of or purporting to represent the club they must be aware that they should not damage the reputation of the club with inappropriate comments. All members are requested to ensure they recognise and respect this.
Approved and adopted by the 100 Marathon Club UK Committee March 2021