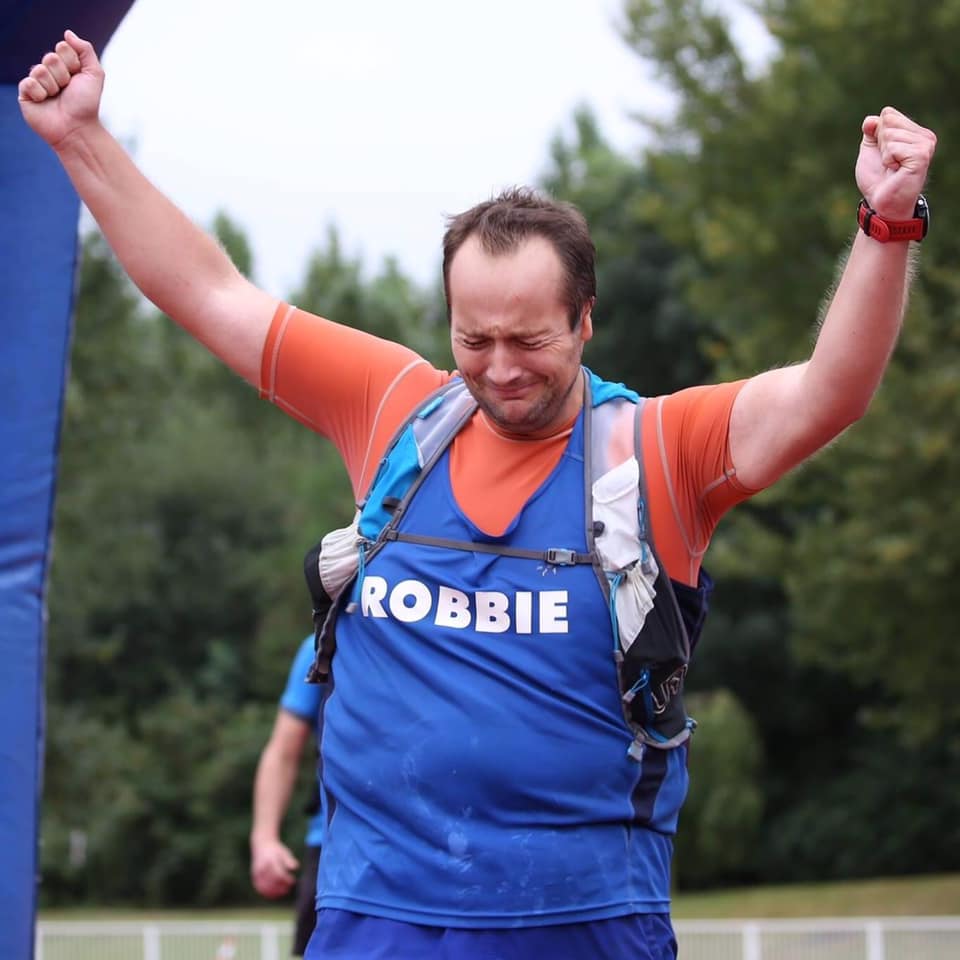 Rob / RobbieC / The Marathon Singer
Role on Committee
Website Manager
How many marathons have you run?
130ish
Why did you start running and tell us about your first marathon
In 2009 I'd eaten myself into the state where I could quite reasonably have appeared on one of those classic fat-shaming TV shows and having left University and my very active life behind I had no practical way to lose the weight. But I was always sporty, stubborn and a tad competitive (with myself) and so I took up running. Being extreme I would use marathons to measure my improving fitness and the gradual benefits of losing 100lbs. I hated running, but it saved my life.
My first marathon was the 2007 London Marathon. I entered as a dare because somebody told me I was 'too fat' to finish it. But with 2 laps of a footy pitch for training, almost 7 hours pavement-scraping and a whole pack of Nurofen - I finished it. I almost died that night, but I'll go a long way to prove someone wrong.
What has been your favourite marathon so far? Why?
The Rome Marathon will always have a magical allure for me. The atmosphere, the sites and the people are simply incredible. I'll never forget achieving my first sub-5 hour finish with a sprint in the shadow of the Colosseum. Spine-tingling. If you only ever do one more marathon in your life, then make it this one.
Tell us about your 100th Marathon, Where, when, how you choose it etc?
I completed my 100th marathon in December 2019 at the inaugural Band of Runners Marathon with Phoenix Running. It was the happiest of accidents that my event ended up being deferred due to injury, but landing at the nexus of all the things that make my running life storybook level incredible - my best friends, my Podcast and the 'small', friendly events that I came to adore. I would never have believed I was liked until I found about 15 incredible people in tow waiting to share my last lap and then a genuine crowd gathered at the finish. It was an affirming, humbling and incredible experience that will never leave my thoughts.
What's your approach to training / running outside of races?
The aforementioned, reliable strategy of jogging twice round a football pitch and having a kickabout was my earliest experience of a training plan.
Nowadays, while I know the core components of a training programme (intervals, time on feet, tempo runs blah...), I absolutely refuse to adhere to one. Running is my hobby and I will run as and when it brings me the most pleasure, relief or accomplishment. My targets/goals will keep me honest through the natural pressure they create - my running will respond to fill the time beforehand.
If money were no object what race would you run and why
The Leadville Trail 100 Miler. Even when I suffered the imposter syndrome of my early distance running days, I became obsessed with this race after reading 'Born to Run'. I've probably watched every documentary and read every race report and even went out to Colorado to support the 'Race Across the Sky' in Leadville. There is something spiritual drawing me to this race and I cannot wait to do it.
Running things go wrong for all of us – what's the biggest mistake /upset along your running path
My failed Centurion Grand Slam attempt of 2017. The failures on the Thames Path 100 and South Downs Way 100 don't haunt me, but the vanity and delusion of entering and showing up so unprepared does. These days I keep myself honest in terms of my 'WHY' when taking on the bigger challenges. I run with the heart more than the head, and so without passion I'm a mere mortal. When I really want something - that's when the magic happens.
What piece of advice would you give someone starting out on this journey
Take your time, enjoy yourself and don't ever take yourself or anybody else too seriously. Admire the amazing achievements, shirts and stories of others - but go and run your own adventure. Comparison is the thief of joy, and running is the cure.
What keeps you busy outside of running?
Running related things like the Band of Runners Podcast, the book I'm (very slowly) writing and the other 50% of my life is split between work, my wonderful family and a patient cohort of friends. I also really enjoy singing, but these days I've cleverly combined that with the running.